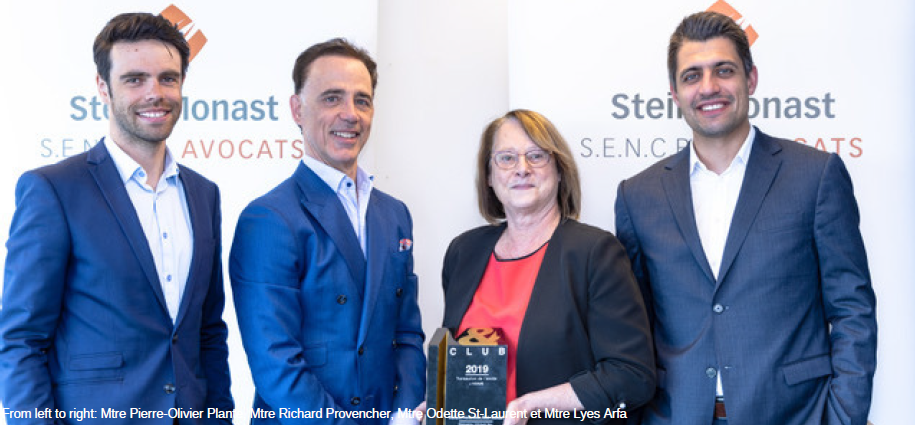 At the last M&A Professionals Gala held on May 1st, 2019, Stein Monast won the prestigious ̎ Transaction of the Year +$100M ̎ Award for developing and implementing an international financing structure by way of an offering of senior secured callable bonds in the aggregate principal amount of approximately $470M. This represents a remarkable recognition for our team, and more specifically for Mtre RICHARD PROVENCHER, Mtre ODETTE ST-LAURENT, Mtre PIERRE-OLIVIER PLANTE and Mtre LYES ARFA, who were the cornerstones on completing this transaction. The high profile of the nominees for this category is a testament to the complexity of the mandate and we are honoured to have ben chosen by the organizing committee as this year's recipients.
Our team has worked relentlessly over the past year to achieve such bold and sophisticated financial structure, which was supplemented by an equity offering of $280 million, private placements in the aggregate amount of $180 million and a $195 million streaming agreement, for an aggregate of nearly $1.1 billion.
Stein Monast has accompanied the management team of Nemaska Lithium Inc., including its vice-president of legal affairs, Mtre MARC DAGENAIS with whom we want to share this honor for his remarkable contribution, in the process of drafting and negotiating the relevant documentation for a the $470M offering of senior secured callable bonds, a $280M public offering of common shares by way of prospectus and a $80M private placement of common shares.
Organized by the M&A Club, the M&A Professionals Gala aims, among other things, to honor successful Québec dealmakers and advisory firms, to celebrate excellence in financing and M&A, and to create awareness for the M&A contribution to the economy.