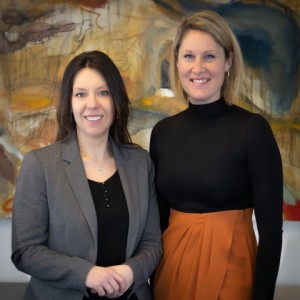 Stein Monast is pleased to announce that Mrs. Jennifer Dumetz, lawyer, and Mrs. Yannie Bordeleau, notary, have been appointed partner of the firm.
Called to the Bar in 2008, Mrs. Jennifer Dumetz practices in the field of immigration law and advises her clients both employers and individuals as such.
Since her arrival in 2018, Mrs. Dumetz enables the firm to offer its clients a better specialised expertise. " Our clients can rely on a dedicated team knowing how and where to direct them in their various provincial or federal immigration proceedings. I am very proud of my integration to the firm as a partner and of my participation to its growth in keeping with the pursuit of its excellence mission" says she.
Stein Monast welcomes its third notary as a partner
On her part, Mrs. Yannie Bordeleau decided to join the firm in 2013. The scope of her endeavour principally spreads in the fields of immoveable and financing law as well as in non litigious matters such as wills, estates and successions. Mrs. Bordeleau is also accredited to act as an identity verification agent for the Department of Justice of the Province of Québec.
"As a notary, I am called upon to intervene in various law sectors and to support the teams already in place. My multifaceted practice within the firm and its resulting challenges are a great motivation for me to act in a non-conventional surrounding", she mentioned.
Advantageously known in the business community, Mrs. Bordeleau is Chair of the Jeunes Mécènes de l'OSQ and a member of the Association de planification fiscale et financière transition committee.
Contact person:
Élodie Loes
Communication et marketing advisor
Telephone: 418 640-4400 # 2204
elodie.loes@steinmonast.ca