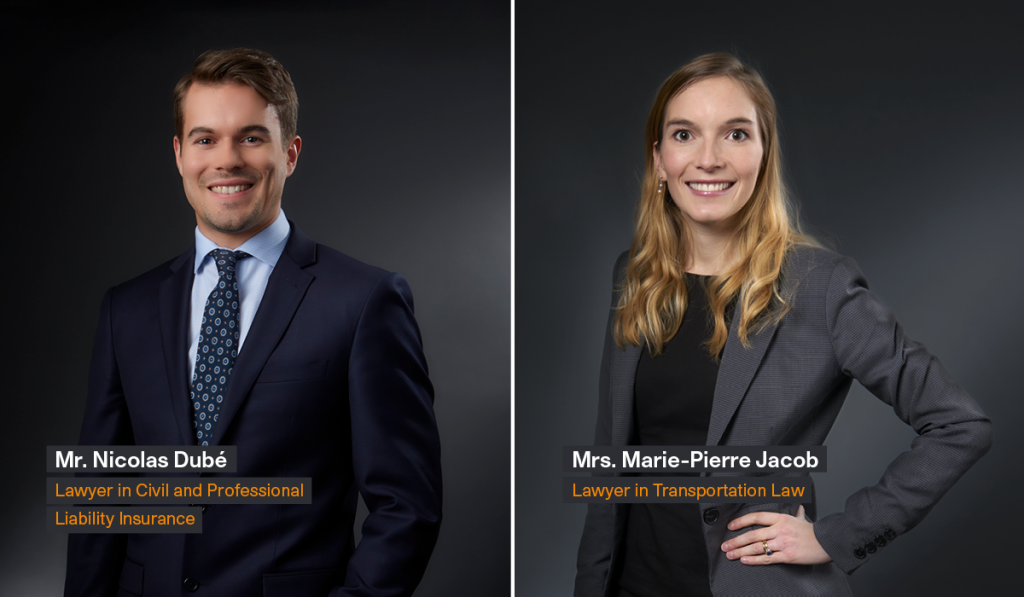 The law firm Stein Monast is  proud to welcome Mr. Nicolas Dubé as a member of its civil and professional liability insurance team as well as Mrs. Marie-Pierre Jacob amongst its transportation law team.
Since he was called to the Bar in 2018, Mr. Dubé has devoted his  practice to both Insurance law and Civil liability.  He has gain recognition as a great communicator, well known for his accessibility and oral skills. "It is with great pleasure and proudness that I will join as a member the large family of lawyers and notaries at Stein Monast.  I consider it most important to practice in a firm where the focus is actually positioned on teamwork and collaboration."
As for Mrs. Marie-Pierre Jacob, she will resume her previous functions within the Transportation sector following the end of her parental leave. While she is part of the firm since September 2017, Mrs. Jacob rapidly distinguished herself amongst her teammates showing thoroughness, assessment and writing capacities as well as listening skills.
"I am very happy to resume my professional activity as a lawyer at Stein Monast amidst an extremely active and client-devoted team. I cannot fail to also mention my proudness and appreciation to practice in a law firm that offers and facilitates a work-family balance environment."
Contact person:
Élodie Loes
Communication and marketing advisor
Telephone : 418 640-4400 ext. 2204
elodie.loes@steinmonast.ca