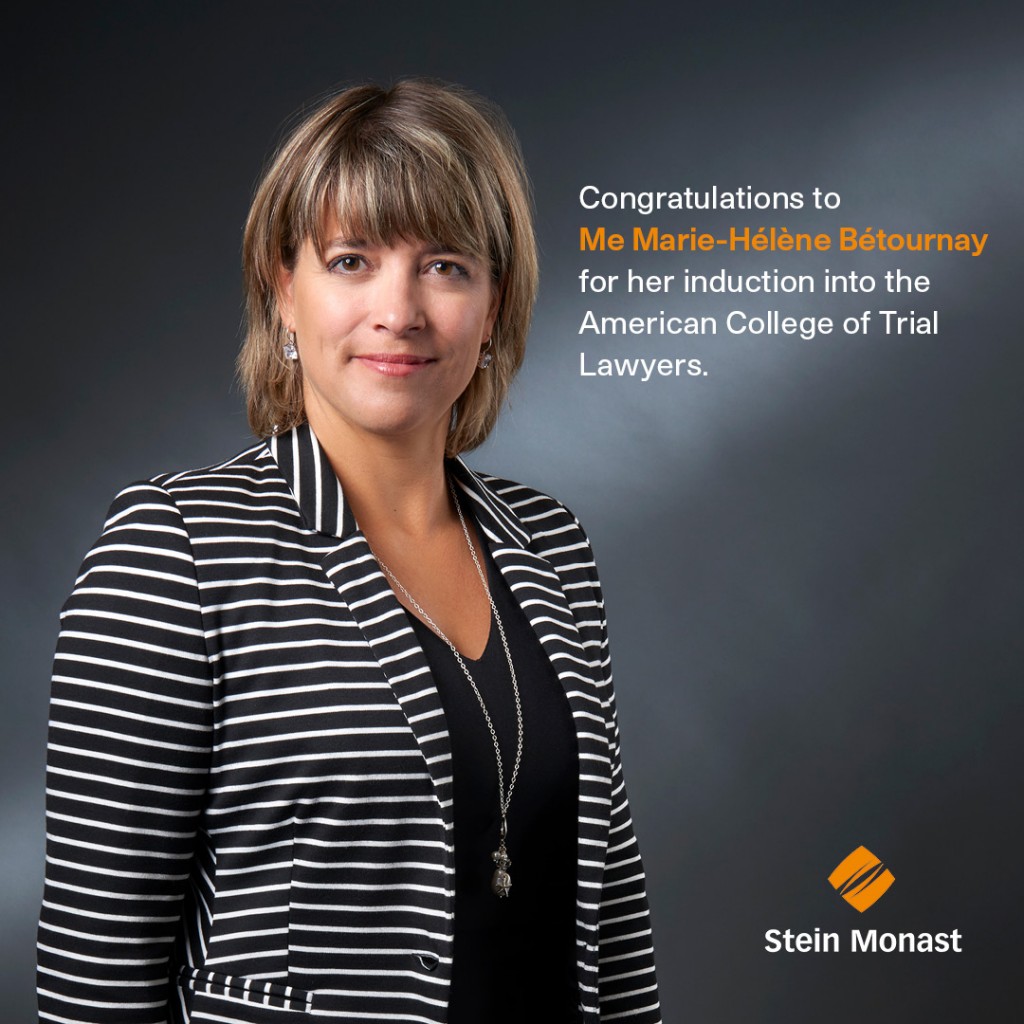 Québec, March 5th, 2021 – Me Marie-Hélène Bétournay has officially become a Fellow of the American College of Trial Lawyers, one of the most prestigious associations of litigators in North America.
Founded in 1950, the College is composed of the best of the trial bar from the United States, Canada and Puerto Rico.
Fellowship is extended by invitation only to a select few and only after careful investigation conducted among the judges before whom the candidate pleaded and among his colleagues As a Fellow, Me Marie-Hélène Bétournay is thus recognized as a very competent litigator who has always adopted an exemplary conduct, respecting the highest standards in terms of ethic conduct and collegiality. Her contribution enriches the profession and the administration of justice.
Me Marie-Hélène Bétournay was admitted to the Quebec Bar in 1997 after completing her bachelor's degree in 1995 at McGill University. She is a partner at Stein Monast LLP. and sits on its board of directors. She is also the head of the insurance, civil liability and professional litigation practice group, which has more than twenty lawyers.
She represents various professionals including engineers, insurance representatives and lawyers, institutions and companies as well as their insurers before the Superior Court and the Court of Appeal of Quebec.
She has acquired extensive experience in risk management, litigation, resolution of complex disputes, management of large litigation files and insurance coverage. She has also written several texts and lectured on insurance-related matters.
Me Bétournay was recognized in The Best Lawyers in Canada 2021 legal directory for her work in insurance law and product  liability law.
For more information:
Élodie Loes
Communication and Marketing Advisor
Telephone: 418 640-4400 ext. 2204
elodie.loes@steinmonast.ca
Charles-Olivier Dumont
Communications and Marketing Coordinator
Telephone: 418 640-4400 ext. 2319
charles-olivier.dumont@steinmonast.ca